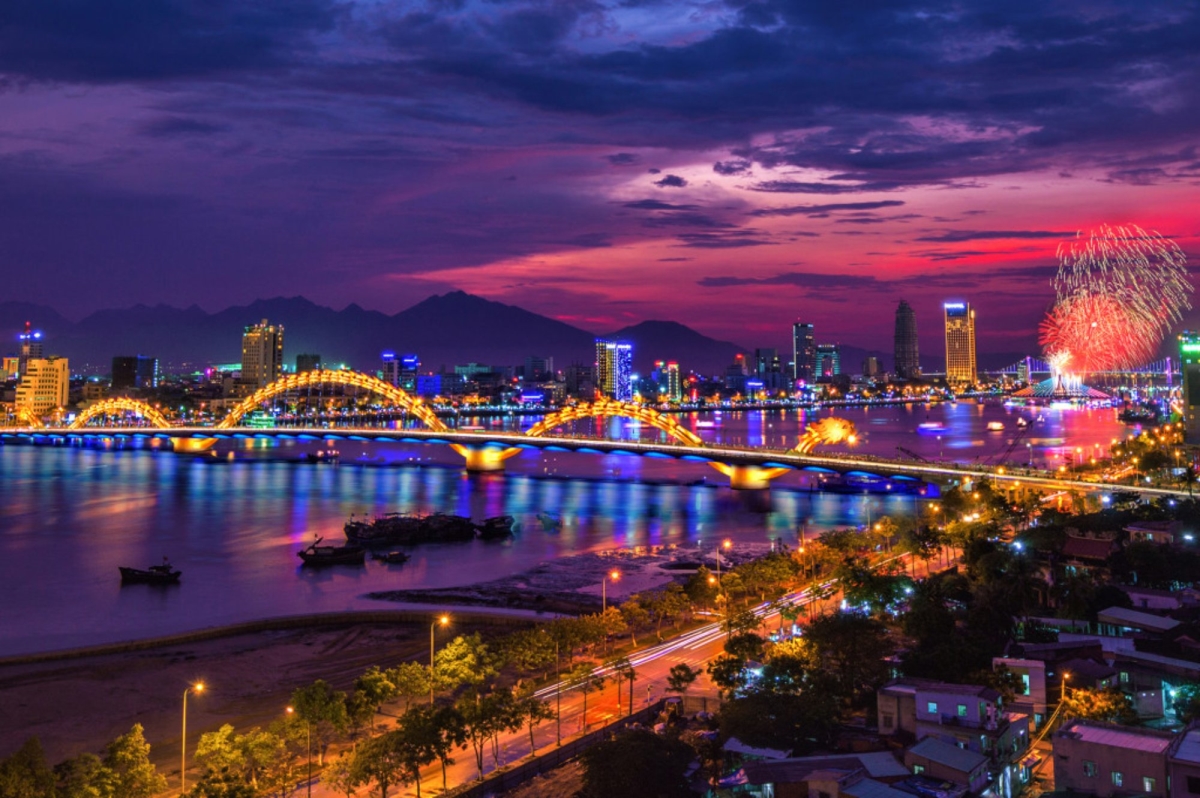 With a 3-day and 2-night tour, tourists come to Da Nang and the surrounding tourist sites such as Ngu Hanh Son, Ba Na hills, …. to watch the clouds float. Next, visitors will visit Hoi An ancient town, which is considered an attractive destination for domestic and foreign tourists. Let's travel and study.Below is the schedule of da nang tour
The highlight of this journey is Ba Na Hills with attractive attractions, besides, visitors can also experience the very interesting games in Ba Na treatment area. Explore Danang city at night with sparkling lights, Dragon fire bridge and water spray, Han river bridge, Helio entertainment and dining area, My Khe beach, Da Nang museum, Ngu mountain Hanh Son, admire the stone sculptures in the non-art handicraft village and buy souvenir fine art stone products, Hoi An ancient town, Son Tra peninsula, watching My Khe beach from above, visit Linh Ung Pagoda and enjoy specialties of Da Nang such as Quang noodles, pork roll, banh beo, ……
Day 01: Visiting Ba Na mountain mountain – Da Nang
Morning is the time for tourists to go through procedures for a flight to Da Nang. Tour guides will pick you up by car and take you to a 3-star hotel in the center of Da Nang city to rest. If tourists come to Danang after 13:00, they will enter the group and check in the hotel. After that, visitors will have a meal at a restaurant in Da Nang with 2 typical dishes: pork and Quang noodles.
In the afternoon, we will start to go to Bà Nà Hills – Nui Chua. Guests will enjoy a special feeling when having 4 seasons in a day. To get to Ba Na peak, visitors will be seated on the longest cable car in the world, visiting places such as Vong Nguyet Hill, Linh Ung Pagoda, Ca Sakyamuni Buddha, …. Then continue to sit the cable car to visit Places such as Nghinh Phong peak, Le Nim villa, Lau Vong Nguyet, Ba Na suspension bridge and finally the God mountain peak with the height of 1487m. The team will be free to join the very designed games in the play area such as the love wheel, Skiver pilot, the fire track, and the tram that hit the ghost house.
Guests will have dinner at the seafood restaurant and then will freely explore the coastal city of Da Nang with locations such as the Han River quay, commercial center, food court, cafe, bar, … then return to the hotel to rest.
Day 02: Ngu Hanh Son- Hoi An Ancient Town
In the morning, guests dine at the hotel, then get on the bus to go to visit the Danang Museum – this is the place to display objects that are a testament to the development of Da Nang – Quang Nam area as today. . Next is Ngu Hang Mountain, with charming cave systems and mountain scenery. At the foot of Ngu Hanh Son is Non Nuoc traditional stone carving village, visitors can buy souvenir items to give to relatives.
At noon guests have meals at the restaurant. In the afternoon, the car will depart to Hoi An to visit famous places in the old town such as Japanese bridge temple, Phuc Kien clubhouse, Sa Huynh cultural museum, ….
In the evening, guests dine at Da Nang restaurant and relax freely, visit Da Nang.
Day 03: Son Tra – seeing off guests
In the morning, guests dine at the hotel and then depart for Son Tra to visit scenic spots such as Linh Ung Pagoda.
At noon guests have meals at the restaurant. Afternoon tour guide off guests at the airport or train station.
In addition, you should not ignore a place when you are in the world, but this is considered a place of fairyland. If want  ba na hill tour  .Please contact us for advice on tours related to Ba Na and other locations of Danang.
Tham khảo thêm